Non Destructive Inspection

Eddy Current & Ultrasonic equipment


DIMENSIONAL MEASUREMENTS METHOD
Regarding dimensional measurements, wall thickness measurements is based on the measurement of the time of flight of longitudinal waves in the inspected object.
At points where the acoustic impedance changes the Ultrasonic waves are reflected more or less strongly. The wall thickness measurement takes advantage of this.
Outer diameter can additionally be determined with a known distance of the probe to the center of the rotation and measurement of the water path (acoustic path in the coupling water surrounding the part). The inner diameter, eccentricity, ovality (deviation from the circular shape) can be determined by the combination of the measurements results of the water path and wall thickness.
Some examples of application

Inspection of tubes and cables for Steel, Automotive and Nuclear Industries in production line, and for all type of materials : steel (ferrous or non-ferrous), fiber, plastic, glass..
By using an Ultrasonic rotating head, the mesurements are made by 2 Ultrasonic transducers which rotate all around the product in real time, and provides a complete measurement of it.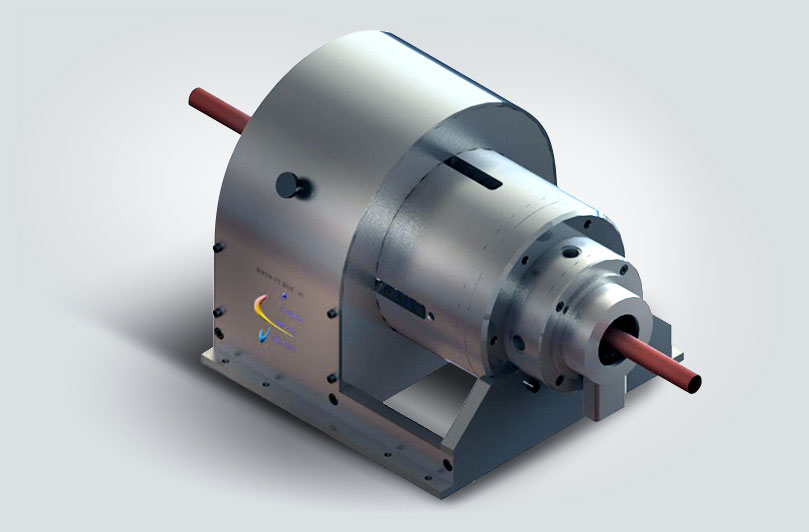 CMS provides Non destructive testing solutions for all defects detection

      PRODUCTS :


DIMENSIONAL MEASUREMENTS INSTRUMENTS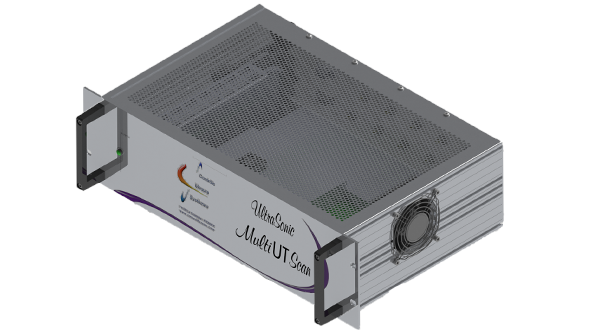 MultiUTscan for defects detection and dimensional measurement
MultiUTscan is a high accuracy multi-channel multi-frequency Ultrasonic inspection instrument.
It is intended for flaw detection and dimensional measurement of ID, OD, and thickness. Instrument operation is made fast and easy via windows based inspection screens and intuitive dialogue boxes for Ultrasonic setup.
MultiUTscan is intended to operate with Ultrasonic rotating head RotoUTscan  and dimensional rotating head RotoUTDim.
DIMENSIONAL MEASUREMENTS SOFTWARE

   Probus software
Probus is a supervision software which collect information provided by NDT equipment and processes the data.
The Probus application is design to be integrated as a quality control tool  in the customer's production line.
It's main purpose is to collect the information provided by N.D.T equipment, in order to display signals and create inspection reports

DIMENSIONAL MEASUREMENT SYSTEM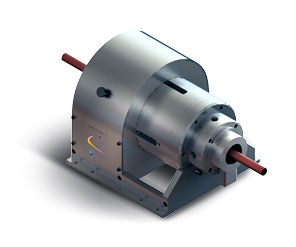 RotoUTDim : dimensional measurement system
CMS propose a large range of rotating heads, for longitudinal defects detection on wires, tubes and, bars
With six different sizes (products diameters range from 1 up to 220 mm), CMS rotating heads are adaptable to any production line.
It can be associated with inserts and input and output centering devices, for guiding the product on the rotating head (from 4 mm product diameter)
RotoUTDim is an Ultrasonic wall and concentricity measurement system, in real time, turning at 360° around the product. It provides very fast measurement (more than 500 measures by turn)
Two ultrasonic transducers are in rotation around the product while it is moving inside a water box. The pair of transducers turns around the product and the supervisor receives in real time the thickness from Probe 1 and Probe 2, calculates WT, ID, OD, ovality, concentricity, eccentricity…
The diameter range inspected is from 4 to 200 mm.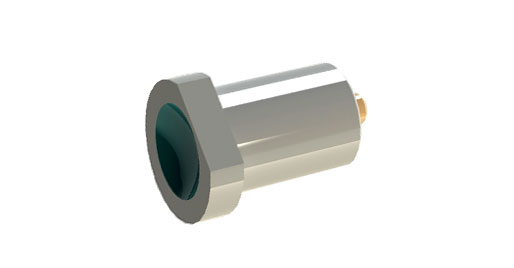 CMS designs transducers for Ultrasonic dimensional rotating head RotoUTDim.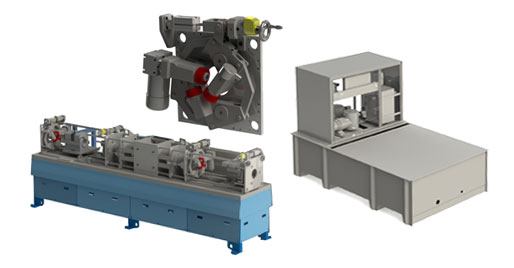 CMS provides a large range of accessories, which, associated with Eddy Current instrument and Ultrasonic instrument, allows a complete inspection of the products.
ENGINEERING AND TURNKEY SYSTEMS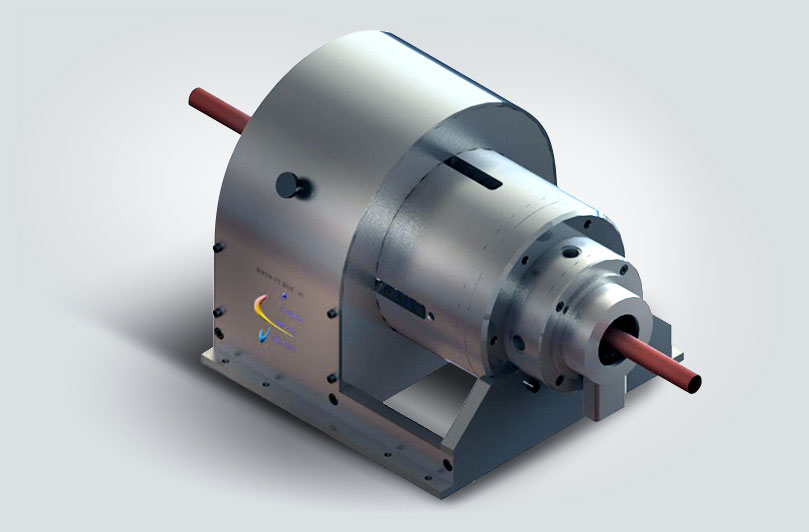 Design, planning, manufacture, installation and commissioning
With its great experience and its known how, CMS can provide complete turnkey systems, a combination of mechanics , based on Eddy Current and Ultrasonic technology in Steel, Automotive Rail; Aerospace and Nuclear industries

Through its products and its remote assistance, Contrôle Mesure Systèmes provides, all over the world, quality and productivity NDT solutions for industrial applications in non destructive testing