Non Destructive Inspection

Eddy Current & Ultrasonic equipments


ULTRASONIC TESTING METHOD
Ultrasonic Testing method (UT) uses high frequency sound energy to conduct examinations and make measurements. Ultrasonic testing inspection can be used for flaw detection/evaluation, dimensional measurements, material characterization, and more. In high technology industries, ultrasonic techniques are increasingly used because it can perform non destructive testing of the product at different stages of its manufacture and during use. This kind of UT equipment is used for the inspection of various products
Some examples of applications:
tubes and bars,

aircraft wings,

metal and composite structures,

sheets,

welds of tubes and pressurized containers,

forgings of large dimensions (for power generation),

motor pistons,

railway wheels and rails of track
Our ultrasonic inspection systems are comprizing  of ultrasonic instruments for automatic in line inspection of tubes, pipes, bars, parts (in Automotive, Aerospace, Steel and Nuclear industry), ultrasonic rotating systems such as rotating head for fullbody defects detection and dimensional measurements, ultrasonic local immersion tank for inspection of tubes and bars, and immersion tanks which are propose for the French market.
Our goal is to develop and create performing solutions to improve safety, efficiency and profitability of our customers. We are also always willing to improve the performances of our equipments and systems.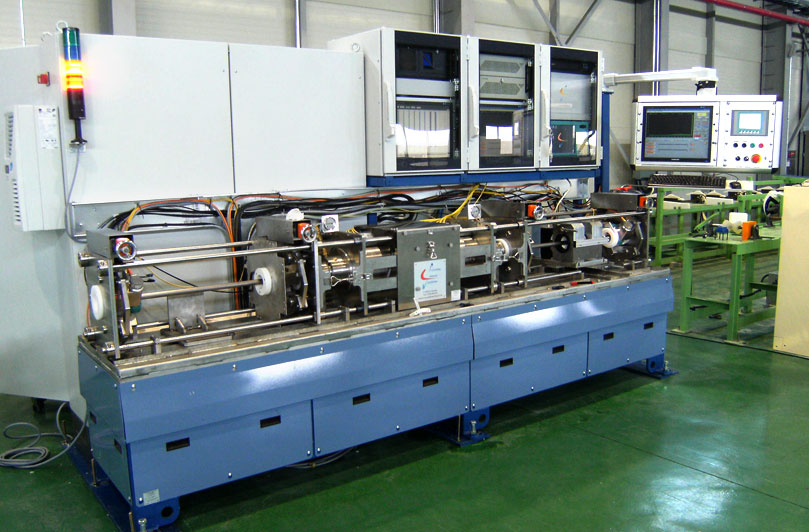 CMS provides Non destructive testing solutions for all defects detection

      PRODUCTS :

NDT solutions for Ultrasonic testing line of tubes and bars
NDT Eddy current (EC) and Ultrasonic (UT) rotating systems for defects detection on long products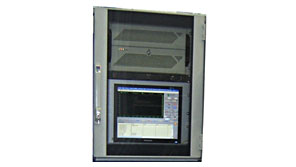 UT electronics for defects detection
UT Electronics is a high accuracy multi-channel multi-frequency ultrasonic inspection instrument.
It is intended for flaw detection and dimensional measurement of ID, OD, and thickness. Instrument operation is made fast and easy via windows based inspection screens and intuitive dialogue boxes for ultrasonic setup.
UT Electronic is intended to operate with ultrasonic rotating head RotoUTscan and dimensional rotating head RotoUTDim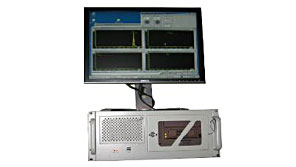 Usc-100b for defects detection
Multi channel multi frequency ultrasonic instrument managing ultrasonic immersion systems. The USC-100b is easy to use via inspection displays based on Windows, and intuitive dialogs for ultrasound settings. Configurable with one or two square waves pulser preamplifiers, USC-100b is expandable up to 8 parallel channels / 64 ultrasound multiplexed channels and programmable I / O ports when making use of several upr-101 ultrasonic cards. It allows the storage of a virtually unlimited number of configuration files for different transducers and inspection plans.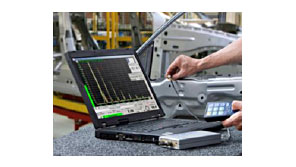 UT MATE ultrasonic instrument
UT Mate is intended for the automotive industry  for the inspection for spotweld in production line. Connected to a computer with USB port, it is an easy to use an powerful instrument with intuitive menus. UT MATE facilitates increased production volumes while maintaining highest quality standards

   Probus Supervision 
Probus is a supervision software which collect informations provided by NDT equipments and processes the data.
The Probus application is designed to be integrated as a quality control tool in the customer's production line.
His main purpose is to collect informations provided by N.D.T equipments, in order to display signals and create inspection reports.
   CSI Software
Advanced software for immersion inspection systems
The CSI software for Windows is a user friendly, next generation software for the factory or laboratory scanning systems. Flexibility allows for operating in either parts coordinates or machine coordinates frameworks, thus making the importing of parts programs from CAD or TXT files and the transfer of parts programs from one system to the other really simple
   1000 gates
Full automatic ultrasonic evaluation of aero engine disks increasing productivity by off line evaluation in parallel to scanning
   USPC7100

Ultrasonic board for high performance and reliability in flaw detection and dimensional measurement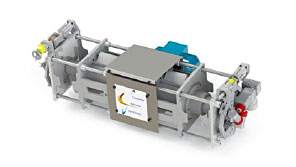 Ultrasonic rotating head RotoUTscan
High precision ultrasonic system, it is intended for defects detection (longitudinal and transversal flaws) and dimensional measurements such as ID, OD, wall thickness, in tubes and bars in non ferrous metal such as carbon steel, stainless steel, titanium. Diameters range of product to be inspected is between 4 and 350 mm.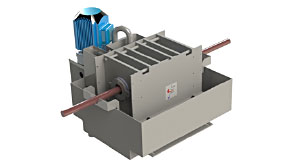 Ultrasonic local immersion tank
Ultrasonic water tank system for defect detection by local immersion on tubes and bars of internal defects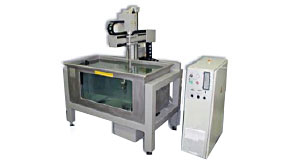 Ultrasonic immersion systems

Ultrasonic immersion systems are high resolution and high precision systems. Sell on the French market for inspection of large and forging parts such as disks, bars, shafts, billets …Extensively used  in Aerospace industry and in many other applications.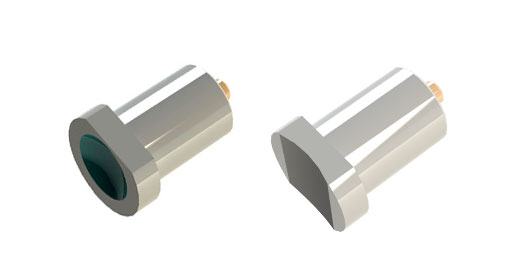 CMS provides ultrasonic transducers such as :
UTR transducers
Spotweld transducers
Contact transducers
Specific transducers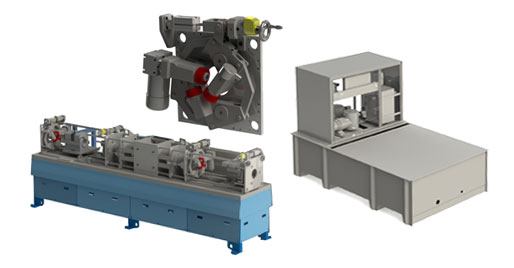 CMS provides a large range of accessories, which, associated with ultrasonic instruments, allows a complete inspection of the products such as :
Centering devices
Water circulation system
Triaxial and RF cables
Waterpath membranes
Mechanical bench
Coupling
ENGINEERING AND TURNKEY SYSTEMS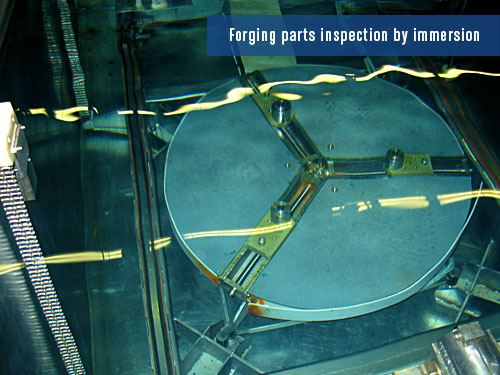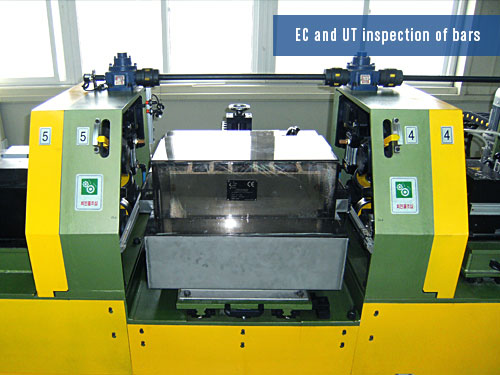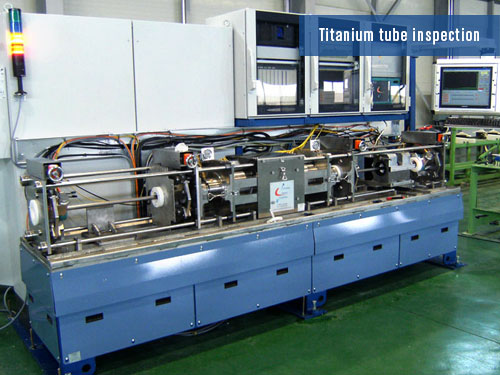 Design, planning, manufacture, installation and commissioning
With its great experience and its known how, CMS can provide complete turnkey systems, a combination of mechanics , ultrasonic technology in Steel industry, Automotive industry; etc…
such as : complete titanium tubes inspection, complete inspection line of bars with ET and UT methods, quality verification of bars, thick tubular product in rotation…

Through its products and its remote assistance, Contrôle Mesure Systèmes provides, all over the world, quality and productivity NDT solutions for industrial applications in non destructive testing