Non Destructive Inspection

Eddy Current & Ultrasonic equipments


Contrôle Mesure Systèmes (CMS) is a leader in Non Destructive Testing (NDT) with a complete range of products for eddy current and ultrasonic inspections since nearly 30 years.
CMS provides Non Destructive Testing solutions and complete turnkey systems including the associated mechanics and its carrying out complete design, planning, manufacture, installation and commissioning of such systems.
Through its products and its remote assistance, Contrôle Mesure Systèmes provides, all over the world, high quality and productivity NDT solutions for industrial applications in Non Destructive Testing.

Come and visit us at Simodec, the exhibition for industrial and bar turning expertise, in La Roche sur Foron (Haute Savoie, France) from 10 to 13 March 2020.
STAND P13 HALL D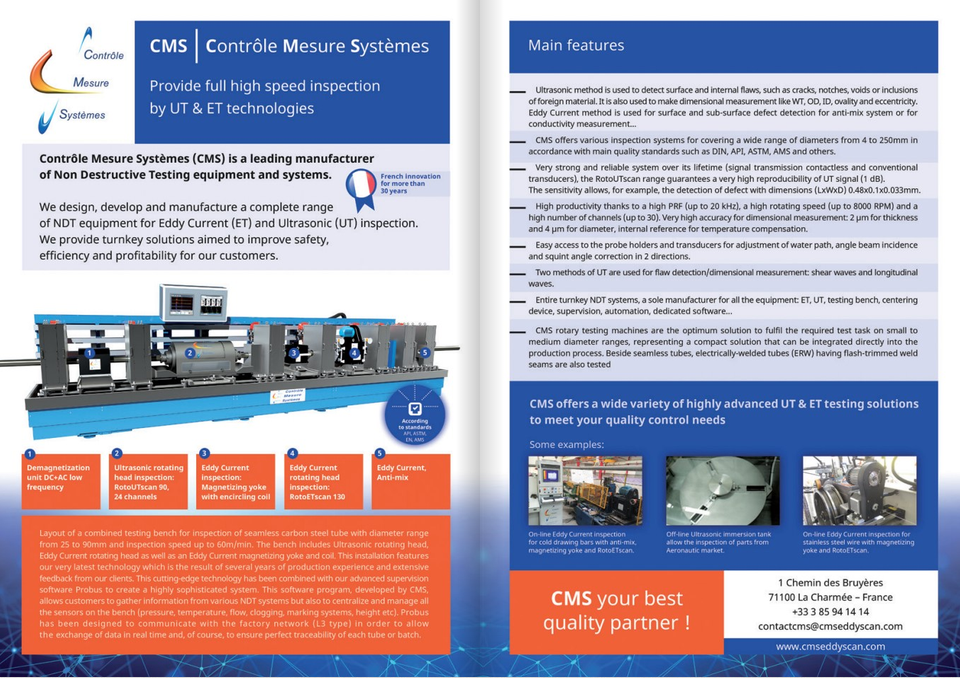 CMS is involved in Aerospace, Automotive, Rail, Steel and Nuclear Industry since 1988.
With its Eddy Current and Ultrasonic testing systems, the company offers 100% inspection to most of the manufacturers of these industries.
SOME OF OUR MAIN PARTNERS
Contrôle Mesure Systèmes works in partnership with the most leading groups such as :
ASCOMETAL
Wires and bars inspection

AUBERT & DUVAL
Aeronautic inspection

PEUGEOT JAPY
Automotive parts inspection

KALIBRE BORU
Tubes inspection

MAHLE
Automotive parts inspection

SEAH SPECIAL STEEL
Tubes and bars inspection

SMPE GROUP
Tubes inspection

SNECMA
Aeronautic inspection

THYSSENKRUPP
Tubes inspection

TI AUTOMOTIVE
Automotive parts inspection

THAI SPECIAL WIRE
Wires inspection

TVEL
Nuclear tubes inspection

CHANGZHOU VALINOX
Tubes inspection

XI AN BAOTIMET
Tubes inspection

VOLKSWAGEN
Automotive parts inspection

RENAULT
Automotive parts inspection

KME
Wire inspection

ARCELOR MITTAL
Wires inspection

AIR FRANCE INDUSTRIE
Aeronautic inspection

Through its products and its remote assistance, Contrôle Mesure Systèmes provides, all over the world, quality and productivity NDT solutions for industrial applications in non destructive testing